This post brought to you by TruMoo. All opinions are 100% mine.
TruMoo® Flavored Milk Products: Where Delicious Meets Nutritious
As parents we sometimes have to resort to drastic measures to get our kids to eat and drink foods and beverages that are nutritious. Like referring to vegetable juices and wheat grass shakes as "milkshakes" and refer to them more as desserts than nutritious parts of a balanced diet. Thanks to TruMoo® we can throw all our tactics in the garbage. Every glass of TruMoo® is delicious and nutritious as it is packed with 8 essential nutrients and tastes great!
TruMoo® flavored milk only has just enough sugar to sweeten the milk so you don't have to worry about your kids bouncing off the walls or anything. What is even better is TruMoo® contains absolutely no high fructose corn syrup. You would be surprised how much milk out there contains high fructose corn syrup and still doesn't even taste as good as a nice cold refreshing glass of TruMoo®!
What is your favorite flavor of milk? Mine is chocolate!
TruMoo® is a brand you can believe in because it all starts with pure fresh low fat milk from your most trusted dairies. You can count on TruMoo® to have absolutely no artificial growth hormones, no HFCS, and will have the most delicious chocolate taste your kid will absolutely love!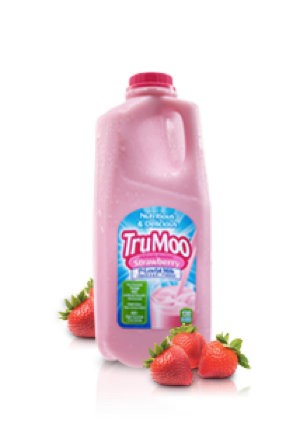 When I give my kids a glass of TruMoo® I feel like I accomplished something because I not only gave them something nutritious but I also gave them something that tastes great!
TruMoo Chocolate-Peanut Butter Sandwich Milk Shake Recipe
Simply crush 6 chocolate-peanut butter sandwich cookies and add them into a blender with 1 cup TruMoo Chocolate Milk, and 2 cups of your favorite vanilla ice cream.  Blend and garnish with a cookie!  Quick, simple and sure to be a family favorite!
Want to try some TruMoo yourself?  I have a bunch of vouchers for you to try your own, simply leave a message letting me know…
What TruMoo flavor are you most excited to try?
See more great ways to enjoy TruMoo