This post brought to you by Texas Pete. All opinions are 100% mine.
Texas Pete Spicy Garlic Hot Sauce for Chicken Wings Recipe
It's football season and what better way to celebrate than with hot wings?  Well, these aren't just any hot wings, these are my secret recipe Spicy Garlic Hot Sauce Chicken Wings! What makes it so secret?  Well, it's the Texas Pete Hot Sauce of course
. It isn't just a condiment (although we use it all the time on burgers, tortilla chips, and such) but it makes many dishes taste better (try it in chili, vegetable soup, etc.).
Spicy Garlic Hot Sauce Chicken Wings Recipe
Ingredients
1 cup Texas Pete Hot Sauce

11 cloves of minced (fresh) garlic

1/2 stick of butter (not margarine)

1/3 cup hot chili garlic sauce (found in Asian aisle)

1 large bag chicken wings

1/2 teason cayenne (optional)
Directions
In hot oil start frying chicken wings until golden brown. 

Meanwhile mince garlic (use a chopper or food processor if possible). In a saucepan melt butter.

Once butter is melted add garlic and saute until garlic starts to brown slightly over medium  heat. 

Add remaining ingredients and cook over medium low heat for 15 – 20 minutes.

When wings are done frying be sure to drain off as much grease as possible then toss with the sauce. For hotter wings add 1/2 teason of cayenne (optional).

Garnish with carrots and your favorite dressing.

Enjoy!
You can find other great Texas Pete Hot Sauce recipes online if you want to experiment.  There are lots of different kinds of Texas Pete to choose from including their new Sriracha Cha! You can find Texas Pete Hot Sauce in your local grocer.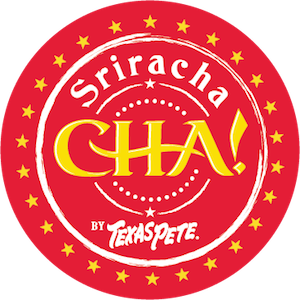 Texas Pete is Feeding America and You Can Too
Share your favorite Texas Pete recipes on social networks using the #TexasPete hashtag because each time the #TexasPete hashtag is used they will donate $1 to Feeding America!