This post brought to you by Dreams Resorts & Spas. All opinions are 100% mine.
Let's Go On a #ResortEscape Together to the Dreams Resorts & Spas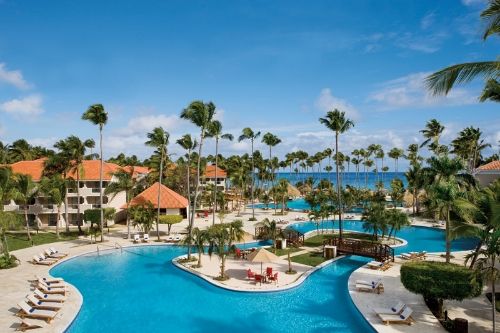 With the weather most of the US has been experiencing lately we seem to be doing a lot of dreaming. I am sure we aren't the only ones dreaming of warm tropical destinations. Half the US has been under a cold snap that rivals temperatures of years past. The Dreams Resorts & Spas is where we would choose to escape right about now and lucky for us there is a content going on right now and if we get the most social shares and mentions YOU could very well join us on a #ResortEscape! The winning blogger will get to pick one of the readers who participated to award an extra free trip for two. So which destination should we venture to?
Dreams Palm Beach Punta Cana
The Dreams Palm Beach Punta Cana is located in the Dominican Republic. An award-winning AAA Four Diamond resort secluded in a lush Caribbean tropical paradise isn't a bad place to hide out in the winter. We can visit the weekly market or the on-site casino by day and indoor theater for live nighttime entertainment. Here is more information on local activites:
● Dominican Tianguis, a weekly market featuring local handicrafts, art and jewelry
● On-site casino (slots, roulette, poker, blackjack)
● Enjoy a vast variety of water sports along the Caribbean coast, including windsurfing, kayaks, hobie cats, jet skis and water skiing (additional costs may apply)
● Impressive indoor theater perfect for live nighttime entertainment and nightly shows
● Theme nights weekly at the pool or on the beach (weather permitting); themes include Super Bowl, Oscars and Gatsby and kebab night
Dreams Huatulco Resort & Spa
The Dreams Huatulco Resort & Spa is located on the beaches of Huatulco in Oaxaca, Mexico (Pacific) right on the Tangolunda Bay. Tangolunda Bay is one of the regions nine bays where we can dig our toes into their golden sands that they are famous for. If we aren't relaxing we can go horseback riding and splash around on their ocean trampoline. Here are some of the activites they feature locally:
● Relax and re-energize oceanfront pilates and yoga
● Get in touch with your creative side with our painting and ceramics classes (additional costs may apply)
● Horseback riding on the beach (additional costs may apply)
● Splash around with our ocean trampoline and scalable iceberg
● Enjoy water sports like windsurfing, snorkeling, kayaking and jet skiing (additional costs may apply)
Dreams Los Cabos Suites Golf Resort & Spa
Finally the Dreams Los Cabos Suites Golf Resort & Spa in Los Cabos, Mexico is an AAA Four Diamond award-winning resort. This resort is located on the sparkling Sea of Cortes and is built in a traditional colonial Mexican design. This resort is a must of the avid golfer and for those who love Family travel. This resort area is noted for the following:
● Complimentary green fees for Cabo Real (which hosted 2 PGA Senior Slams) or Club Campestre San Jose (designed by Nicklaus Design) golf courses (one round of complimentary golf for every 4-night stay through October 31, 2014; additional costs may apply)
● Enjoy big screen movies on the beach
● Enjoy a campfire and outdoor activities for families on the beach, including bonfires and marshmallow roasting
● Whale watching (seasonal; usually from December – March)
● Get fit in a unique way with our aqua gym, which has aerobics in our activity pool
The more you share, the greater your chances are to win!
So, which of these beautiful All-inclusive luxury resort locations should we escape to? Tweet out to @lisasamples stating which location you want for us all to visit using the hashtag #ResortEscape and just maybe we will be heading out to fulfil our dream of Unlimited-Luxury® and warm weather!